Deprecated
: wp_make_content_images_responsive is
deprecated
since version 5.5.0! Use wp_filter_content_tags() instead. in
/home/hmxeplmy/public_html/travelsox/wp-includes/functions.php
on line
5323
Deprecated
: wp_make_content_images_responsive is
deprecated
since version 5.5.0! Use wp_filter_content_tags() instead. in
/home/hmxeplmy/public_html/travelsox/wp-includes/functions.php
on line
5323
Deprecated
: wp_make_content_images_responsive is
deprecated
since version 5.5.0! Use wp_filter_content_tags() instead. in
/home/hmxeplmy/public_html/travelsox/wp-includes/functions.php
on line
5323
Deprecated
: wp_make_content_images_responsive is
deprecated
since version 5.5.0! Use wp_filter_content_tags() instead. in
/home/hmxeplmy/public_html/travelsox/wp-includes/functions.php
on line
5323
Deprecated
: wp_make_content_images_responsive is
deprecated
since version 5.5.0! Use wp_filter_content_tags() instead. in
/home/hmxeplmy/public_html/travelsox/wp-includes/functions.php
on line
5323
Deprecated
: wp_make_content_images_responsive is
deprecated
since version 5.5.0! Use wp_filter_content_tags() instead. in
/home/hmxeplmy/public_html/travelsox/wp-includes/functions.php
on line
5323
Deprecated
: wp_make_content_images_responsive is
deprecated
since version 5.5.0! Use wp_filter_content_tags() instead. in
/home/hmxeplmy/public_html/travelsox/wp-includes/functions.php
on line
5323
Deprecated
: wp_make_content_images_responsive is
deprecated
since version 5.5.0! Use wp_filter_content_tags() instead. in
/home/hmxeplmy/public_html/travelsox/wp-includes/functions.php
on line
5323
Deprecated
: wp_make_content_images_responsive is
deprecated
since version 5.5.0! Use wp_filter_content_tags() instead. in
/home/hmxeplmy/public_html/travelsox/wp-includes/functions.php
on line
5323
Deprecated
: wp_make_content_images_responsive is
deprecated
since version 5.5.0! Use wp_filter_content_tags() instead. in
/home/hmxeplmy/public_html/travelsox/wp-includes/functions.php
on line
5323
Deprecated
: wp_make_content_images_responsive is
deprecated
since version 5.5.0! Use wp_filter_content_tags() instead. in
/home/hmxeplmy/public_html/travelsox/wp-includes/functions.php
on line
5323
Deprecated
: wp_make_content_images_responsive is
deprecated
since version 5.5.0! Use wp_filter_content_tags() instead. in
/home/hmxeplmy/public_html/travelsox/wp-includes/functions.php
on line
5323
Deprecated
: wp_make_content_images_responsive is
deprecated
since version 5.5.0! Use wp_filter_content_tags() instead. in
/home/hmxeplmy/public_html/travelsox/wp-includes/functions.php
on line
5323
Deprecated
: wp_make_content_images_responsive is
deprecated
since version 5.5.0! Use wp_filter_content_tags() instead. in
/home/hmxeplmy/public_html/travelsox/wp-includes/functions.php
on line
5323
Deprecated
: wp_make_content_images_responsive is
deprecated
since version 5.5.0! Use wp_filter_content_tags() instead. in
/home/hmxeplmy/public_html/travelsox/wp-includes/functions.php
on line
5323
Deprecated
: wp_make_content_images_responsive is
deprecated
since version 5.5.0! Use wp_filter_content_tags() instead. in
/home/hmxeplmy/public_html/travelsox/wp-includes/functions.php
on line
5323
Deprecated
: wp_make_content_images_responsive is
deprecated
since version 5.5.0! Use wp_filter_content_tags() instead. in
/home/hmxeplmy/public_html/travelsox/wp-includes/functions.php
on line
5323
Deprecated
: wp_make_content_images_responsive is
deprecated
since version 5.5.0! Use wp_filter_content_tags() instead. in
/home/hmxeplmy/public_html/travelsox/wp-includes/functions.php
on line
5323
Deprecated
: wp_make_content_images_responsive is
deprecated
since version 5.5.0! Use wp_filter_content_tags() instead. in
/home/hmxeplmy/public_html/travelsox/wp-includes/functions.php
on line
5323
Deprecated
: wp_make_content_images_responsive is
deprecated
since version 5.5.0! Use wp_filter_content_tags() instead. in
/home/hmxeplmy/public_html/travelsox/wp-includes/functions.php
on line
5323
Deprecated
: wp_make_content_images_responsive is
deprecated
since version 5.5.0! Use wp_filter_content_tags() instead. in
/home/hmxeplmy/public_html/travelsox/wp-includes/functions.php
on line
5323
Deprecated
: wp_make_content_images_responsive is
deprecated
since version 5.5.0! Use wp_filter_content_tags() instead. in
/home/hmxeplmy/public_html/travelsox/wp-includes/functions.php
on line
5323
Deprecated
: wp_make_content_images_responsive is
deprecated
since version 5.5.0! Use wp_filter_content_tags() instead. in
/home/hmxeplmy/public_html/travelsox/wp-includes/functions.php
on line
5323
Deprecated
: wp_make_content_images_responsive is
deprecated
since version 5.5.0! Use wp_filter_content_tags() instead. in
/home/hmxeplmy/public_html/travelsox/wp-includes/functions.php
on line
5323
Deprecated
: wp_make_content_images_responsive is
deprecated
since version 5.5.0! Use wp_filter_content_tags() instead. in
/home/hmxeplmy/public_html/travelsox/wp-includes/functions.php
on line
5323
Deprecated
: wp_make_content_images_responsive is
deprecated
since version 5.5.0! Use wp_filter_content_tags() instead. in
/home/hmxeplmy/public_html/travelsox/wp-includes/functions.php
on line
5323
Deprecated
: wp_make_content_images_responsive is
deprecated
since version 5.5.0! Use wp_filter_content_tags() instead. in
/home/hmxeplmy/public_html/travelsox/wp-includes/functions.php
on line
5323
Constructed for Travelers, Inch by Inch
Whether you're settling in on a red-eye or hopping onboard a cross-country train, Travelsox work to maintain optimal circulation and contribute to total body wellness during long periods of travel.
Feel the difference graduated compression makes on your comfort and energy level, combatting swelling and reducing achy legs so you can focus on your trip.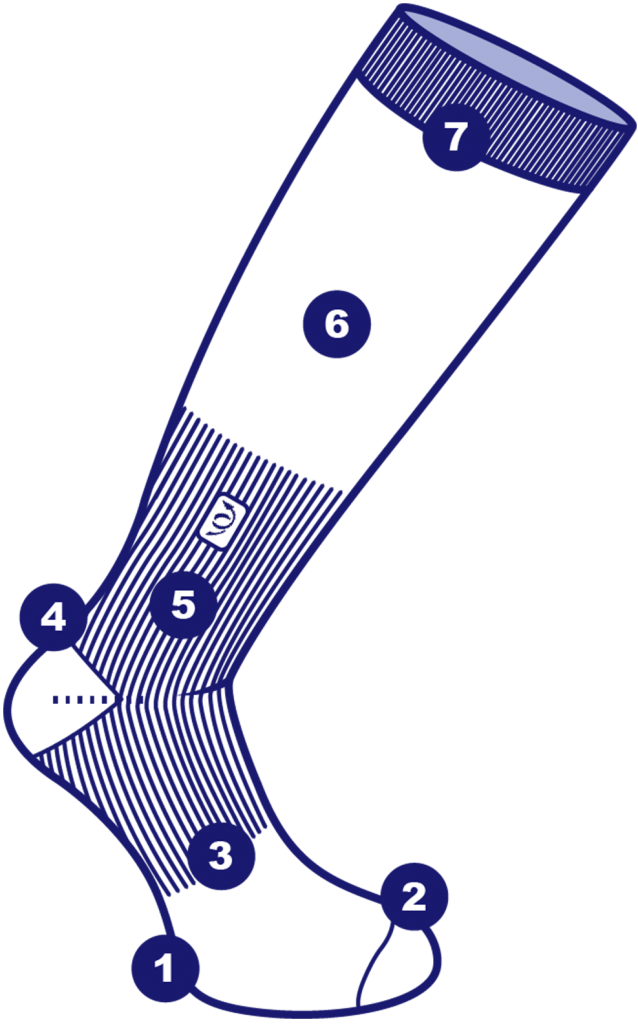 DVT
200,000 people die annually of complications from deep vein thrombosis, or DVT. This condition occurs when a blood clot forms in one of your body's deep veins, which can cause leg pain or swelling. It often happens when a person doesn't move for a long period of time, such as during travel.
It's a major threat because these blood clots can break loose, travel through your bloodstream and lodge in your lungs, blocking the flow of blood.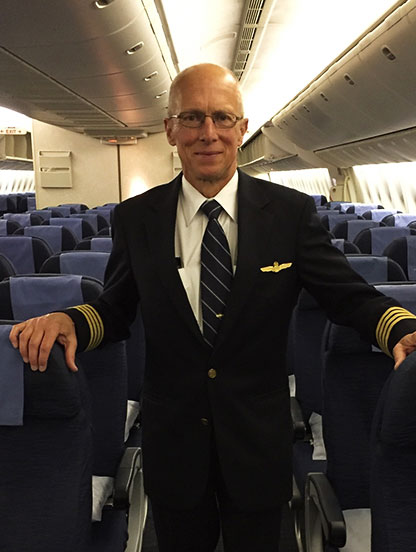 "Without fail, after a flight across the Atlantic or Pacific Oceans, my ankles and lower legs would become visibly swollen. Calf cramping became a major problem. Movement in the cockpit, massage, and drinking water did help a bit but not entirely.
Compression socks were the answer. A good compression sock minimizes lower leg swelling by creating an upward flow of blood through the lower leg. This helps to get un-oxygenated blood out of the legs and replaced with fresh oxygenated blood.
The top of the line is made by TravelSox® and is the Rolls Royce of compression socks. It gives maximum pressure in the ankle and extreme lower leg, reducing pressure towards the knee. Since wearing this sock I have not experienced any lower leg swelling or calf cramping."
Captain Dave Walters, United Airlines B-777
Size Charts
GRADUATED COMPRESSION SOCKS
NON GRADUATED COMPRESSION SOCKS